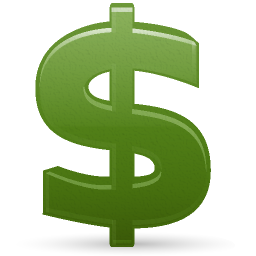 Invoicing clients is a fact of life for anyone in business. No matter how much you love what you do, at some point you will need to send your client an invoice so that they can pay you for your services.
As we near the end of 2011 we have many options to choose from when it comes to the process of invoicing, which includes many steps that take place in the background before and after you've sent that invoice to your client. And the list of options is growing, which makes for exciting times for those of us who really like our online apps. It also makes for some tough decisions when it comes time to choose just one of those options and get to work.
In an effort to narrow the field to a manageable but still difficult decision, I'm going to focus on two of the current leaders in the field: FreshBooks and Harvest.
I've been happily using FreshBooks since mid-2009, and things were going well when I encountered Harvest in a blog post somewhere and decided to take a look. I liked what I saw and their pricing was more "competitive" than FreshBooks (whatever that really means), so I started an account with Harvest to run a side-by-side comparison. And by the way, that's a great way to make a decision like this – open up a free account with the contenders and test drive each of them until you decide.
I seriously wanted to like Harvest enough to make the switch, and I actually manually transferred about 180 invoices into Harvest from FreshBooks. Much like FreshBooks, Harvest has a great user interface (it looks good and works well) and their company culture seems to be friendly and positive. Beyond that, the pricing for me was about half what I was paying at FreshBooks, and would get even better as my client-base grows over time. But this sort of decision needs a little more basis than a good UI and saving some dollars, so let's take a closer look.
Disclaimer: I'm currently a paying customer at both FreshBooks and Harvest, though I'll be cancelling one of those accounts soon after this is published. I'm also an affiliate with FreshBooks, so some of the FreshBooks links on this page are my affiliate links.

Company overview:
In business since: 2000
Location: Toronto, Ontario, Canada
Support options: FAQs, forums, contact form, toll free phone numbers (NA, UK, Ireland), phone, fax, email
In their own words: "Our mission is to deliver fast and simple invoicing and time tracking services that help you manage your business."
Pricing: Free, Seedling ($19.95/month/25 clients), Evergreen ($29.95/month/unlimited clients), Mighty Oak ($39.95/month/unlimited clients/1 additional user). See below for more details on this.
What I liked:
Home page has a good overview of what's happening in your account – recent activity (both yours and clients), Project Dashboard, summary of invoices and expenses for the past three months, and timesheet summary for the current week and month.
Several third-party choices for desktop timers, both free and paid versions.
You can see at a glance if a client has clicked-through and actually viewed their invoice(s). This is a big plus in my opinion.
Extensive reporting, including sales tax, which for me is critical.
FreshBooks' sense of humor and they way they integrate it into the app puts a smile on my face.
What I didn't like:
The reports are not as "readable" as Harvest reports, due to smaller text and less white space. Or maybe my eyes are just getting older, which they are!
No retainer capability.
The "Support Tickets" feature is lacking, with no indication that this will change. It's probably enough for really basic customer support, but don't expect to push it too far. Check out this WordPress option from WooThemes for a better solution.

Company overview:
In business since: 2006
Location: New York City, NY, USA
Support options: FAQs, forums, contact form, toll free phone number (US & Canada), phone, email
In their own words: "Harvest is a web-based time tracking and invoicing application relied on by creative businesses in over 100 countries."
Pricing: Free, Solo ($12/month/1 user +), Basic ($40/month/5 users +), Business ($90/month/10 users +). Additional users are $10 per user per month.
What I liked:
Retainers – depending on the sort of work you do, this could be very handy. I really wish FreshBooks had this feature.
Harvest has invested a lot of time in their reporting capability and the look of their reports, and it shows. The reports are interactive allowing you to "drill down" into the details, and they are very readable (large text and plenty of white space).
Harvest's invoices look really good.
The way they structure their pricing plans, based on the number of users and not clients.
What I didn't like:
No sales tax report, or at least I wasn't able to find it. You may not need this, but here in South Dakota we have to charge and pay sales tax on website maintenance and hosting for our South Dakota clients.
Their invoice reports aren't as detailed as FreshBooks.
Desktop timer is quirky. More about this below…
Pricing
Both FreshBooks and Harvest have free plans that you can use forever, but hopefully you're going to outgrow that free plan and you'll need to move into a paying plan.

FreshBooks is a little sneaky about this, but like FaceBook, it's their app and they can do whatever they want with it, and if we like the app we're going to keep on using it! Try as you might you're not going to find a pricing chart on their public-facing site, though it used to be there. Now you'll need to create a free account and then you'll be able to see the details. Or you can read about them right here by clicking on this screenshot to see the full details.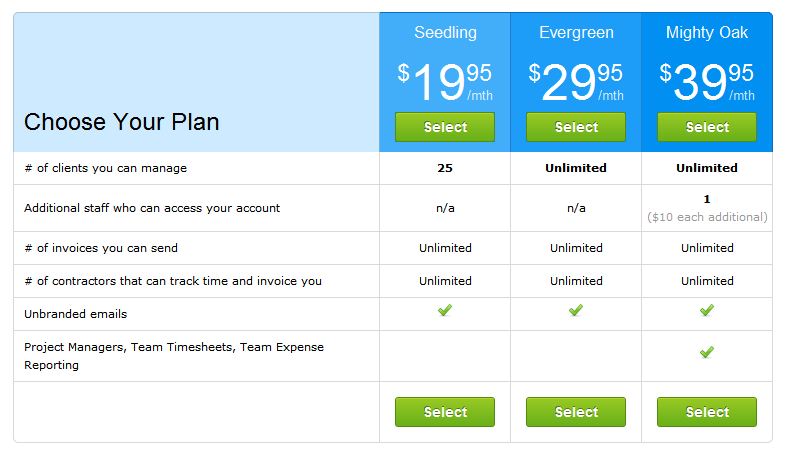 Harvest's pricing is extremely friendly for small shops like mine because they base their plans on the number of users (staff) and not the number of clients like FreshBooks does. See their website for their current prices.
Add-ons
It seems like add-ons are the name of the game anymore, and the winner is the one with the most add-ons available. But that can be a good thing, and both FreshBooks and Harvest have lots of options for integrating with other software, and chances are you'll find something that works with what you're already using.
Comparing the features that I tend to use
This isn't going to be exhaustive, though it may seem like it is (!). I'm going to try to compare FreshBooks and Harvest in the areas and features that I've found to be important and/or useful.
Client Management
When it comes to your clients there probably isn't such a thing as too much information. There are things you need to know such as contact information, project details, outstanding invoices, hours you've logged on their projects, and more.

FreshBooks has made some good improvements in this area over the past two years, and what they have now is really top notch. It's not a CRM replacement, but the Client page in FreshBooks has and is a link to much information. From this page you can see the people you send or have sent your invoices to, how much the client owes you currently, and how long it typically takes for them to pay you.
There are also links to an account statement (which you can print, send, or export), a record of all the emails you've sent to them from FreshBooks (such as estimates, invoices, and overdue reminders), timesheet and hours logged reports, and other searches which you can see in the screenshot (click on the image for a full-size view).
Additionally, you can create a new invoice, recurring invoice, estimate, project or support ticket from this same page.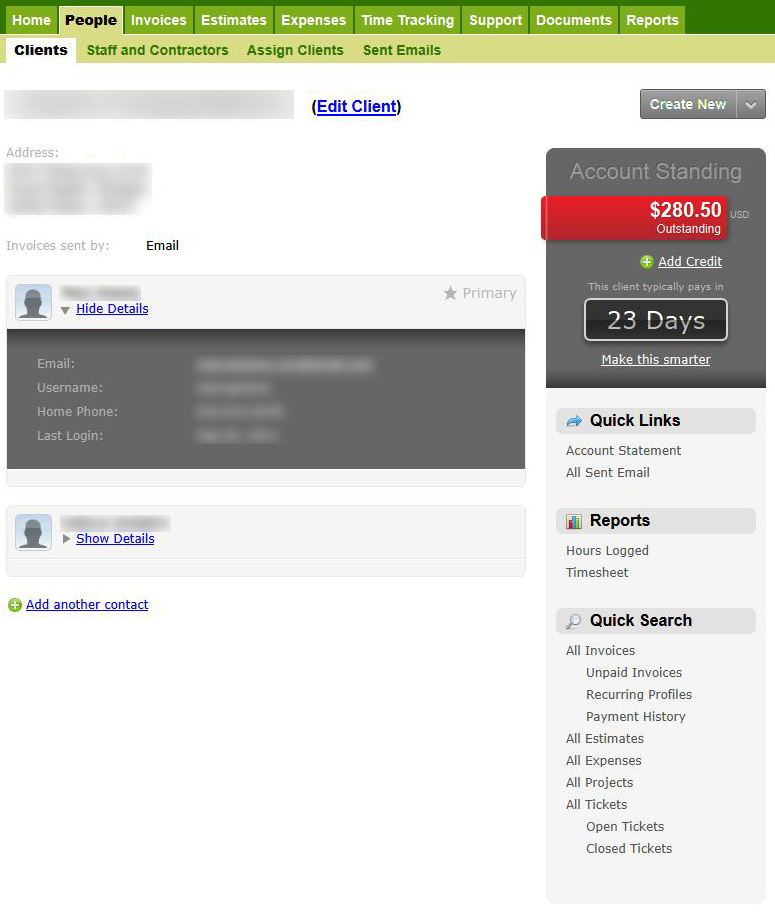 Unfortunately Harvest doesn't have anything comparable to the client page in FreshBooks, unless I just didn't see it, and believe me, I looked for it.
Estimates
I've used this feature in FreshBooks only a handful of times, as I prefer to use my own proposal form for an overview of the project and an initial quote, and if that's approved verbally then I tweak my seven-page contract and send that to the client. Still, using one of these estimates is better than nothing, and there are a couple small differences between them.

When a client receives an estimate from FreshBooks, they are able to Accept or Request Changes to the estimate. Once accepted, FreshBooks keeps a record of their acceptance in the Autobiography of the estimate, and you can then create an invoice from that estimate.



In Harvest, the client's options are to either Accept or Decline an estimate, compared to FreshBooks' options to accept or request changes. I can see pros and cons with both approaches, but the additional flexibility with a FreshBooks estimate is probably a good thing. Like FreshBooks, once the client has accepted the estimate you can then create an invoice from that estimate.


Invoices
Creating and sending invoices by email are what FreshBooks and Harvest both do really well, with a few small differences. Similarities include auto-generating and sending recurring invoices, and keeping a history of everything that happens with the invoice at the bottom of the invoice screen.

In FreshBooks when you send an invoice by email you aren't really sending the invoice – you're sending a notification that their invoice is ready to view, print, or pay, and when the client clicks the link to view the invoice this is recorded in FreshBooks so you can know whether or not the client has actually seen the invoice. I like this feature a lot, as it provides information for me that I like to have.

FreshBooks also has an option to send an invoice by mail, meaning they will print the invoice on paper, stuff the envelope, and mail it to your client for you. I haven't needed this yet, but if I had a client or clients that preferred or required being invoiced this way, it would be a convenient service to have available. As you might expect, FreshBooks does charge a small fee for this convenience.

When you send an invoice in Harvest, you have the options to include a PDF version and/or include a link to the Web invoice for online payment. Including the PDF could be a good thing, though this is probably why Harvest doesn't or can't tell you that an invoice has been viewed by the client, which FreshBooks does. More proof that you can't have it all.
If you chose to include a link to the Web invoice, Harvest adds that link twice, above and below the message of the email, making it obvious and hard to miss! Clicking the link takes the client to the Web version of the invoice which has a big, green button that says, "Pay Invoice," and really, that's what this is all about. Two or three clicks for your client and the invoice is paid.

Time Tracking and Desktop Widgets
User Interface is where it's at, literally, and if you're going to be tracking your time so that you can invoice your clients, you need an effective way to do this. Both FreshBooks and Harvest provide their own tools for this, and there are also several third-party solutions. Here are some that I've tried – and I'm primarily a PC user, so these are what work on a Windows 7 (64) machine. I do have the Harvest widget on my MacBook, but I haven't used that widget enough to say anything meaningful about it. Sorry, Mac users!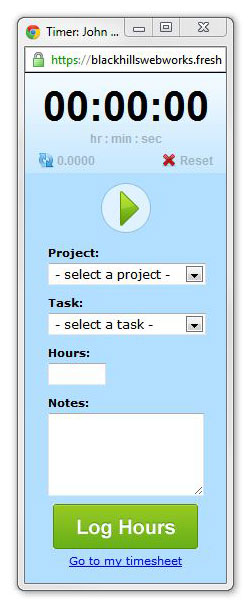 FreshBooks' built-in timer works very well, as you might expect. My only beef with it is that it opens in another browser window, and when you have lots of apps open this little window can get lost in the shuffle. And what is lost tends to be forgotten. The image to the right is a screenshot of the built-in timer.
They list eight other time tracking add-ons on their website, two of which I've used extensively.
Vista Time Tracker Gadget
It may have been built for Vista, but this desktop gadget works great in Windows 7. It's free, unobtrusive, and isn't loaded down with features. I know I can run multiple timers with timerSync (see below), but I've used this to track time on a second project while pausing the main project I'm working on and tracking with timerSync.
timerSync
The timerSync app isn't free, but in my opinion it's worth the $24 I paid for it, and it's a big reason that I finally decided on FreshBooks. Here are just a few features of this excellent tool:
You can use it to create new projects for existing clients.
It has an option to round your time, from one to thirty minutes, up, down, or to the nearest amount.
It can show a small pop-up reminder while the timer is running, which I've set for every five minutes. (see the screenshot for an example of this)
After you press 'submit' it can ask you if you're sure, and that question can last for however many seconds you'd like it to.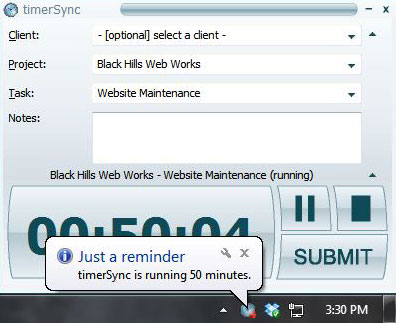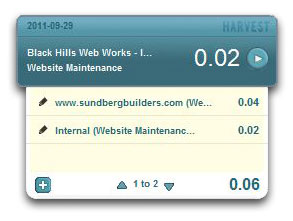 Harvest has their own desktop widget for both Windows or Mac. It seemed to work better for me on my Mac than on my PC, but it was still sort of quirky. There were times I wasn't sure if it was still running or not, or if I'd paused the timer or stopped it, and I'd have to go to the timesheet for that day in Harvest to make sure it had stopped. I'm guessing that if you're a dyed-in-the-wool Mac user the subtlety of this widget would work just the way you're used to. The image to the right is what the widget looks like in its expanded mode.
There are one or two other timers available from third-parties on the Harvest add-ons page, but the Harvest widget seems to be the one to go with if you choose Harvest.
Online Payments
We have clients that prefer to pay by check, and others that prefer to pay online, so it makes sense to have both options available. I should clarify that the only online method we are currently using is PayPal (both Standard and Business Payments), though both FreshBooks and Harvest have multiple options available. They do differ on how they handle using PayPal which I'll explain below.

FreshBooks has a smorgasbord of online payment options available, and rather than list them all, just click on the screenshot below to see all the current options.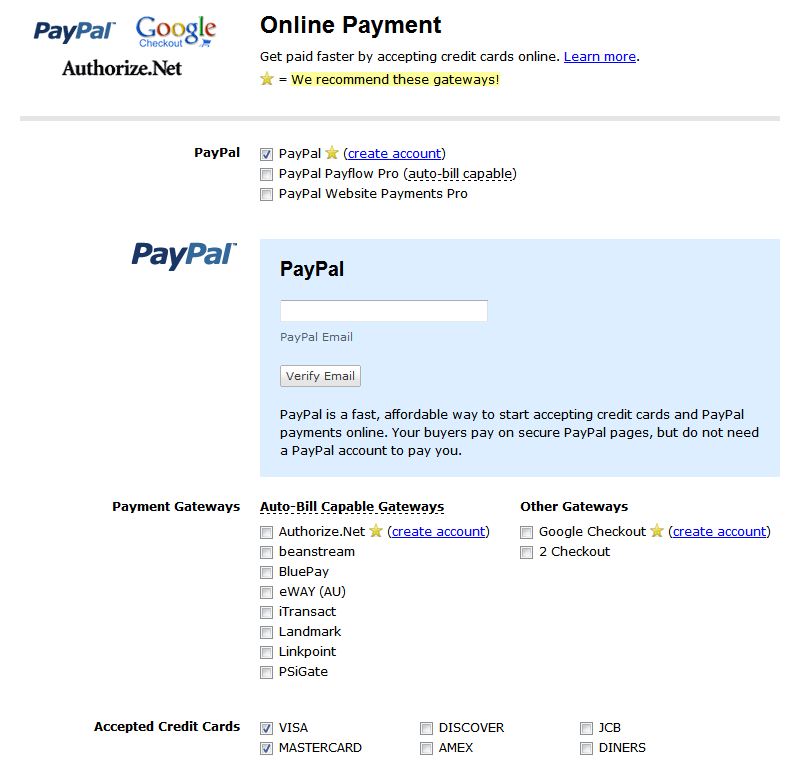 If you choose to go with the basic PayPal option, FreshBooks doesn't force you to choose between Standard or Business Payments in the system settings like Harvest does – they let you make that choice on each invoice. Why is that a good thing? Business Payments are a bargain at $0.50 per transaction but they don't allow credit cards, and Standard payments are going to charge you a percentage of the transaction amount which could be relatively painful depending on the invoice. I generally select Business Payments unless a client specifically asks to use their credit card, and then I'll make the switch on just their invoice. Granular control: it's a good thing!
Check out this screenshot of an invoice to see the two PayPal options.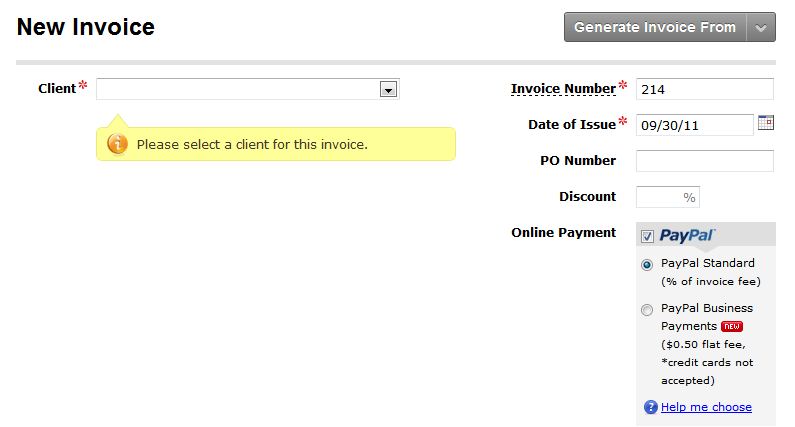 When you configure online payments in Harvest you have a couple choices to make. First you need to select between PayPal and a payment gateway. The gateways currently available in Harvest are TrustCommerce, Authorize.net, PayPal Website Payments Pro, and LinkPoint/FirstData. If you choose PayPal rather than a payment gateway you'll need to make another choice, this time between PayPal Standard and PayPal Business Payments. And there's the rub: the choice is made in the system settings as opposed to being able to choose per invoice, which you can do in FreshBooks. Big deal? My preference is to choose Business Payments at $0.50 per transaction, but some clients would rather use a credit card, and it's simple and convenient to edit their invoice in FreshBooks to allow them to do this.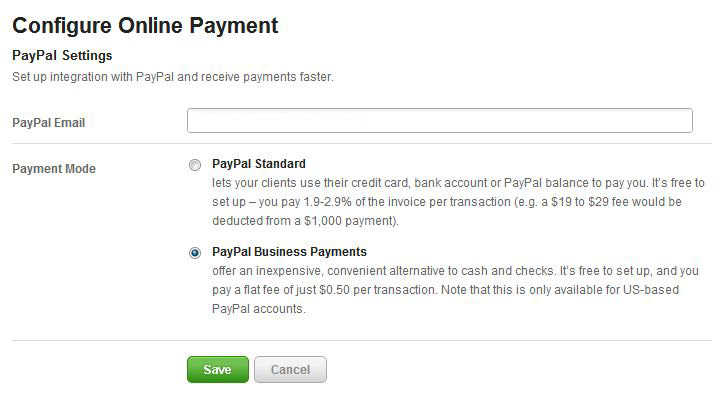 Sales Tax
I wasn't going to include this section originally, but there is a significant difference between how FreshBooks and Harvest deal with taxes that is worth mentioning, and it was an additional reason for swaying me back to FreshBooks.

FreshBooks has this one nailed, at least for me. Here in South Dakota we have a state tax at 4% and each city/town has a tax, usually at 2%. We're currently tracking sales tax for clients in three different South Dakota cities, and with FreshBooks we're able to add a tax for the state and each city, so that when it comes time to report and file our sales tax, there is a report that tells us how much we collected for each city. That makes a painful process much less so, when the time comes around to file and pay sales tax.

Harvest sort-of tries in this area by letting you set two separate taxes. Obviously things get difficult if you have three or more different tax rates that you need to charge for and keep track of, and even more difficult without a decent tax summary report to give you the information you need at tax time. I had been using Harvest for a month or so when I discovered this deficiency, and it was a big disappointment. I actually spent several hours trying to come up with a work-around in the reports and my accounting software, but to no avail.
Reports
If invoicing is the life blood of your company, then reports are how you take the pulse of your company and monitor its health. Who haven't you invoiced yet and still need to? Which type of job is historically more profitable for you? How many hours did that fixed-price job really take, and should you adjust your price for the next similar job? How long does each client take to pay your invoices, and does this match their urgency to get their projects finished?

FreshBooks has extensive reporting capabilities, and in particular I've found their Tax Summary report to be invaluable for preparing my sales tax reports with the state. Another report that is very helpful is the Timesheet Details report, which tells you whether or not you've billed for the work you've done. To see a list of their other reports, have a look at the screenshot.


Harvest has built a good reputation for their reports, but they don't appear to have the breadth of reporting that FreshBooks has available. Still, their Uninvoiced Report has an advantage over FreshBooks in that they provide an "Invoice" button right inline in the report next to the uninvoiced items, which couldn't be much simpler (see the screenshot below). With FreshBooks you'd have to click through a few more pages to complete that step. Also, as I mentioned earlier, their reports are more readable and easier on the eyes than FreshBooks reports.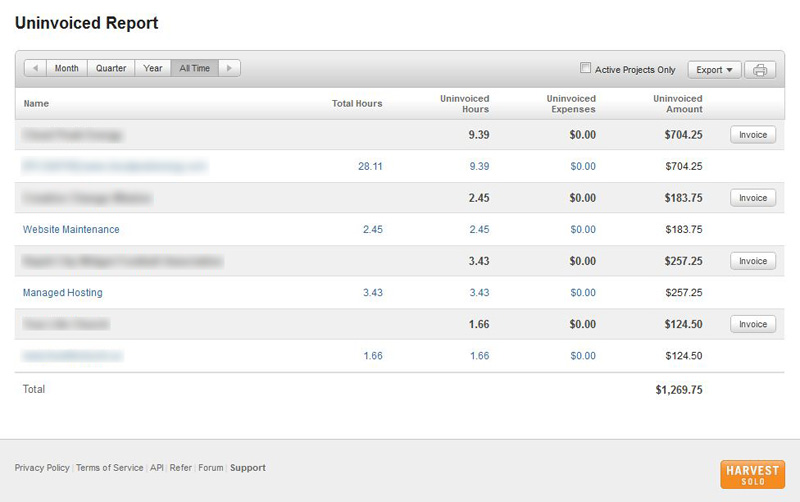 Mobile Apps
As we step into Q4 of 2011, any online application that doesn't have a mobile version is asking for trouble, unless they have a really good reason not to have one. Both FreshBooks and Harvest have Android, iPhone, and Windows Mobile versions of their apps, and FreshBooks includes BlackBerry in the mix. I'm an Android user (currently Gingerbread) so I can't speak for the other platforms, but for Android both apps have good time tracking capability, and the Harvest app also lets you record expenses on the go.
Stop talking!
That's for sure. This ended up being a lot longer than I envisioned, and I could have kept going about Projects and Project Management, Documents, and lots of other details, but I think this is a good sampler for understanding some of the big differences between FreshBooks and Harvest.
Like I said way back in the beginning, I really wanted to like Harvest enough to switch, especially with their pricing plan, but in the end FreshBooks has more of what I think I need to effectively run my business, so I'll be staying with them for the time being. Who knows? Maybe Harvest will make some changes and improvements that will convince me to take another good look, but don't expect another blog post about that decision!
And don't get me wrong, I really do like FreshBooks, and I have ever since I started using them back in mid-2009. I just wish they'd rethink the way they price their plans. Is it a deal breaker? No, that's just the cost of doing and being in business. Besides, if I wasn't using FreshBooks, I wouldn't know arcane details about dolphins, frozen pizzas, and other subjects of interest…

Happy invoicing!