I had a client call me last year asking why they had to renew their domain already, since we had done that not too long ago. I stopped in at their retail store and they showed me an envelope, a notice, and a return envelope from Domain Registry of America. I was slightly confused because I knew for a fact that their domain was not registered through that registrar, which I'd never heard of until then.
After reading through the notice I realized that I was holding in my hands a clever form of scam, or maybe even fraud. I advised my client to throw it away, or better yet run it through the shredder, and forget about it.
Since then I've received quite a few of these notices myself and I've tossed every one. Until now. It finally occurred to me that there are probably people falling for this trick, and I should get the warning out about what this organization is doing.
Appearances can be deceiving
The envelope that arrives in your mailbox looks like this one: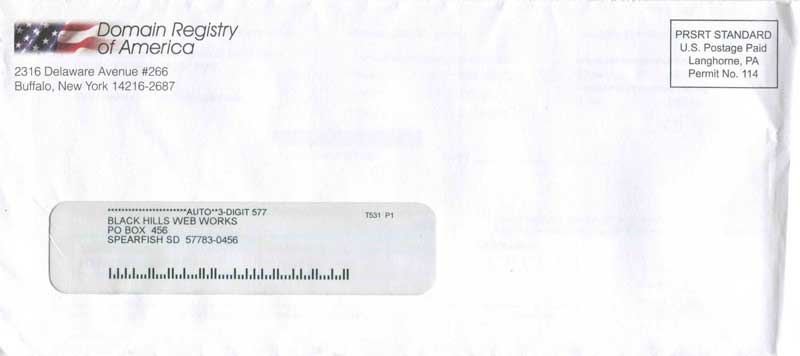 It looks official, though it's not first class postage, and the flag image will probably appeal to the patriots among us, but beware of what's inside.
Domain Name Expiration Notice
The "notice" is pictured below, and it has been written in such a way as to try to trick the reader into thinking they need to fill it out and send it in with their money NOW, or they may lose their domain name, which of course nobody wants to have happen to them.
While writing this post I did a quick Google search for "Domain Registry of America," and there is a growing chorus of voices who have fallen for this scam, so consider this post as a Public Service Announcement warning you to not take the bait when a letter much like this one arrives in your mailbox.
For more information, Wikipedia has an interesting write-up about "domain slamming," featuring Domain Registry of America as a top example.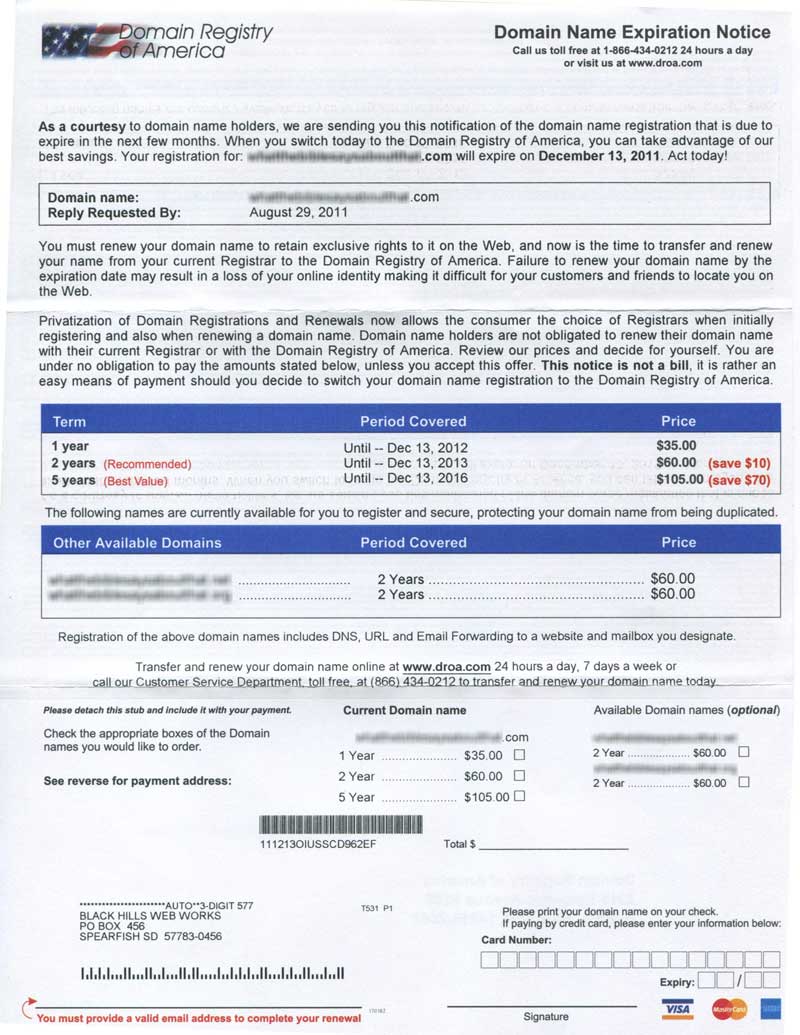 Savings? For who?
"When you switch today to the Domain Registry of America, you can take advantage of our best savings."
Notice who is doing the savings. Them. Not you. In fact, their prices are two or three times more than you have to pay to register a domain name with other registrars. There's probably no way to find out, but I am curious as to how much revenue they've generated through this simple ploy.
The Murky Waters of Domain Registration
Dealing with domain registrars can be a nasty business, and I have yet to see one that sets a high standard for how it deals with customers – both current and potential, though if someone has found a registrar worth promoting, I'd be glad to hear about it. There is serious money to be made in registering domains, and when that's the case you need to have your wits about you as step into these murky waters — and all this just to register a domain name! But from what I've seen, Domain Registry of America has gone further than the others by using this "slamming" technique, and for that reason they and their mail should be avoided.