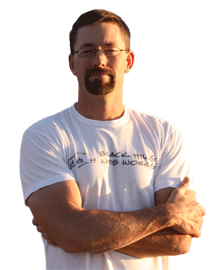 I'm John Sundberg, and I founded Black Hills Web Works in early 2009.
As of this writing, I'm the entire staff at Black Hills Web Works, responsible for setting company goals, pondering, managing the books, researching technology, sales, building websites, managing our clients' website hosting, and everything else involved in running this small business.
I really, really like WordPress and figuring out creative ways to use it for a variety of websites, but I also enjoy running a small business, taking long mountain bike rides, hiking (and biking) with my wife and four daughters in the Black Hills, reading, studying Biblical languages, teaching, writing, and helping out with causes that I care deeply about.
Building websites isn't the only thing I've done. Since graduating from high school twenty-some years ago, I've served as a Combat Engineer in the US Army, worked on a commercial construction crew, earned a Bachelor's degree in Biblical studies, served as a wilderness trip guide for several Christian camps, got married, started and operated a small construction company for all of the last decade, started working on a Master's degree, and founded Black Hills Web Works.
If you're into this sort of thing, you can follow me on Twitter here and/or here.