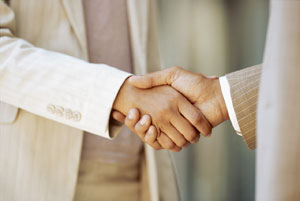 Do you need a CRM (Customer Relationship Management) app?  Probably. If you're in any type of business where you interact with clients on a regular basis, then definitely. Arguably, if you have a very limited number of clients at any one time (one, for example), you might be able to get by with using email and a calendar, but even then you'd be limiting yourself.
What I was looking for in a CRM
What I was looking for specifically in a CRM was a better way to keep tabs on (manage) my sales pipeline – from the first contact I make with a prospective client to the other end of the pipeline when our contract is fulfilled and both of us are satisfied with the results. Granted, the relationship doesn't end there, so a CRM should help you do just that – manage your on-going relationship with your client.
With that in mind, I came up with the following criteria:
1. It needs to be in the cloud. I'm not going to try to make the case in this article for why that's important – if you're reading this then you probably already understand why online apps are a good thing.
2. Seamless (or nearly so) integration with Google Apps, and if possible, Freshbooks.
3. Intuitive, usable, simple, and fast. I'm not opposed to challenges as a rule, but keeping something like this simple is going to greatly increase the chance that I'll actually use it on a daily basis, which is one of my goals to begin with.
4. Low cost (or free) is always a good thing, but I also understand that you need to spend money to make money, and the folks who design and provide these apps need to make a living too.
5. Scalable for future growth. Currently Black Hills Web Works is a one-man shop, but that doesn't mean it's always going to be – time will tell.
6. Contacts-centric. There are different ways to organize a CRM and how it works, but I tend to think in terms of the people I know and interact with, and want the features to branch out from that. If that makes sense.
7. A way to track, see, and manage my sales pipeline, leads, opportunities, etc. Interactive graphs and charts would be a bonus.
8. Social media integration of some sort wouldn't hurt. Twitter, at least.
9. Task manager with a reminder system of some sort. An integrated calendar would be nice, but not mandatory if I'm able to pull the tasks into Google Calendar with an iCal feed.
10. Finally, I want it to look good, at least to my eyes. If I'm going to be looking at this app on a daily basis and (probably) paying for it, then looks do matter. I also realize that this is personal and subjective – what looks good to me might not look as good to someone else.
Project Management as a bonus
Some of these CRMs also handle, to varying degrees, Project Management (PM). That could be a nice bonus, and in some ways it might make sense if your particular reason for having clients has everything to do with "building" projects for them. If one app can do both, then why not take advantage of that feature?  Here at Black Hills Web Works we're currently exploring a Joomla component called "Projectfork," which allows us to keep all that project data on our own server, and helps to keep our costs down for that feature. Because of this, integrated PM isn't a critical criteria for our purposes.
What about my data?
A question you should ask is what happens to your data, and not just your contact list, should you decide to close your account or switch to another CRM. Given enough time this could be a significant amount of information, and this issue is worth thinking about and taking the time to preview these CRMs to make sure you find the one that's right for you from the beginning. Capsule, for example, provides a way for you to export your data (contacts, opportunities, and cases) in a CSV file using their "one click export" feature. I didn't test this feature, and I don't know how easy it would be to import your data into a different CRM, but at least you would have your data.
How I tested them
Nothing complicated here, I imported my contact list or integrated with Google Apps (if that feature was available), and started adding tasks, deals (leads, opportunities), notes, and other relevant information. Some I used more than others, and that happened naturally as I gravitated more towards one or two of these apps.
Some of these apps have free plans, and the ones that don't have free plans do have free trials lasting from two weeks to thirty days, giving you enough time to try them out and see if they fit.
The Contenders
The apps I took a serious look at are Apollo, Bantam Live, Capsule, Glasscubes, Highrise, Insightly, Nutshell, Solve360, and Zoho CRM, and most of these integrate one way or another with Google Apps. As of this writing, Capsule, Highrise, and Solve360 also integrate at some level with Freshbooks.
CRM features at a glance

So here we go…
Apollo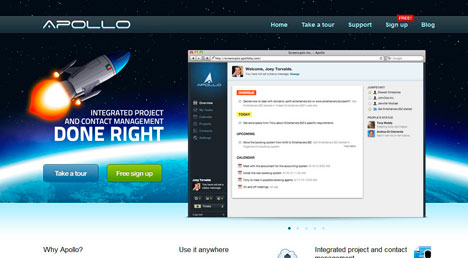 In their own words: "Apollo is project and contact management done right. Using Apollo, you will realise that it's built to help you get things done, quickly and efficiently. With Apollo, you will always know where your projects, your contacts and your life are at and you will feel on top of everything — regardless of how hectic your schedule is."
The good: Clean look, lots of features, integrated calendars, integrated timers, so new it still has that "new car smell!"
The bad: No integration with Google Apps (yet?), no iCal feed, no email dropbox.
Mobile app? Edit: (via email from Apollo) No – though they do have a mobile specific web interface. Still in beta, but I've tried it and it worked well on my Android phone.
The price: Free (for now), with premium plans in the future. (see for yourself)
My conclusion: Apollo was a late entry in this review (via Twitter), and for that reason I was going to give them a brief mention at the end of the article. But then I started really looking at their features, and decided I'd better give it a try. They're still in beta as of this writing, and new features are rolling out quickly, but what they've accomplished so far is really impressive.
Bantam Live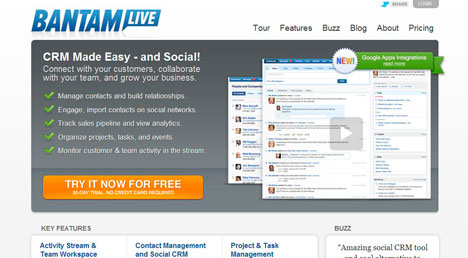 In their own words: "Bantam Live provides a collaboration workspace with social CRM features for business teams to collaborate internally and build relationships across the web. Fusing social media with productivity applications for business teams, it's an "all in one place" tool to help small businesses grow."
The good: Social media features, clean layout, integrated Twitter client (think built-in HootSuite), nice sales pipeline anayltics, team collaboration.
The bad: The social approach may not be for everyone.
Mobile app? iPhone, Blackberry.
The price: Free (limited), Personal ($19/month/1 user), Basic ($29/month/6 users), Pro ($49/month/12 users), Pro Plus ($85/month/25 users), Deluxe ($140/month/unlimited users). (see for yourself)
My conclusion: Bantam Live takes a different approach than the other CRMs in this review, and they rely heavily on the social media stream. In today's world there is validity to this idea, and this probably won't be the last CRM to incorporate this idea. For my purposes, my clients tend to not be users of social media (at least in a business sense) when they start thinking about a website, so the built-in social stream wasn't a big draw, but it might be for you, and it might be for all of us in the future.
Edit: Tweet from @BantamLive – "Thx 4 coverage. Do know that our stream is mainly for team interaction and collaboration, not just outside social content."
Edit: Bantam Live has been acquired by Constant Contact – read about it in this press release.
Capsule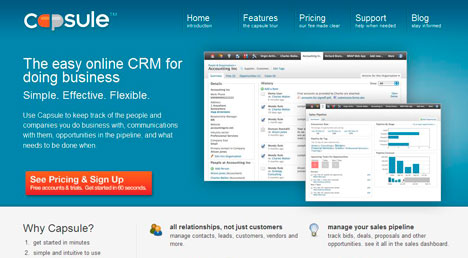 In their own words: "Capsule is a simple, flexible CRM for small businesses and sales teams. Capsule makes it easy to keep track of your customers and other contacts, your sales opportunities and follow-ups."
The good: Web interface has excellent response time, clean layout, nice visuals for the sales pipeline, newly incorporated Gmail contextual gadget, tags.
The bad: Terminology takes getting used to (minor detail), calendar only starts on Monday (no Sunday option).
Mobile app? No. Edit: See the comment below from Greg about an iPhone app for Capsule that he released on February 8, 2011.
The price: Free for 2 users/250 contacts, Professional ($12/month/user). (see for yourself)
My conclusion: For the price, Capsule is a good deal and a well-thought-out product. Some reviewers have mentioned that since it's based outside of the U.S. it's by default less trustworthy or something like that, especially for business purposes. Personally, I don't hold to that way of thinking and wouldn't let that stop me if this was the CRM that "clicked" with me and the way I work.
Glasscubes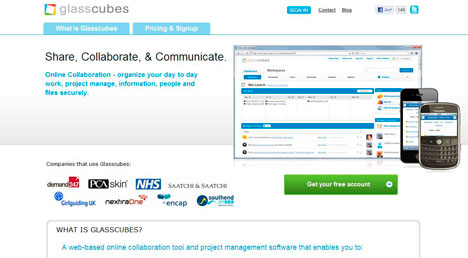 In their own words: "Glasscubes focuses on simplicity, clarity, and ease of use making it truly unique. You'll love using Glasscubes. Organize your day to day work – manage projects, information, people & files securely."
The good: They've been making steady improvements to the app, file sharing, clean UI, integrated calendars.
The bad: Number of workspaces seems limited, and I couldn't verify what happens to the data in a workspace when you're done with that workspace.
Mobile app? No – though they do have a mobile specific web interface.
The price: Free (Basic) for 2 workspaces, Standard ($49/month/6 workspaces), Professional ($125/month/20 workspaces), Max ($199/month/unlimited workspaces). (see for yourself)
My conclusion: To be fair, Glasscubes is, as I understand it, more of a Project Management and Collaboration tool than it is a CRM, but it does do CRM and that's why I included it here. The people behind this app are accessible and communication seems to be important to them – I even had a voicemail from Nick (in London, I'm assuming) during my first trial run to see how it was going.
Highrise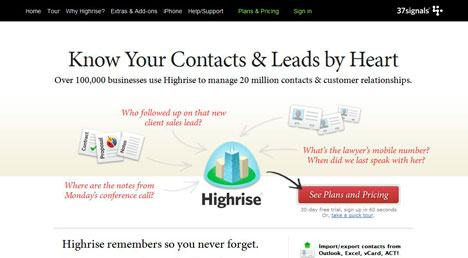 In their own words: "Highrise is the famous application from 37signals to track your Leads, Contacts, & Deals. With this Gmail gadget, you can do this directly from your emails."
The good: Intuitive (for me, at least), nice layout, has what I need but not loaded with extras I won't use.
The bad: Limited Google Apps integration (via a Gmail gadget).
Mobile app? iPhone. Edit: Contacts, tasks, and cases can be synced to Android, BlackBerry, iPhone, iPad, Palm webOS, Win Phone 7, Win Mobile, Nokian Symbian using an app called "CompanionLink Express" (via the 37signals blog on February 22, 2011).
The price: Free for 2 users, Solo ($29/month/1 user), Basic ($24/month/6 users), Plus ($49/month/15 users), Premium ($99/month/40 users). (see for yourself)
My conclusion: There is a LOT of anti-37signals attitude on the web, but that seems to be standard fare towards industry leaders. Frankly, I was very satisfied with how well Highrise works. The more I worked with it, the more I realized that "Yeah, that's how I would have done it," which made it all-the-more intuitive for the way I think and work.
As of this writing, there is no synchronization between Highrise and your contacts in Google Apps, which at first turned me off, but there are enough users making noise about this on the forum that I suspect it will be available in the (near) future. Hopefully. Until then, importing contacts wasn't difficult, and I'm not adding THAT many new contacts on a regular basis that I can't handle doing it manually.
Project Management is handled separately through one of their other apps, Basecamp, but since I'm still giving Projectfork a serious look this didn't bother me.
Insightly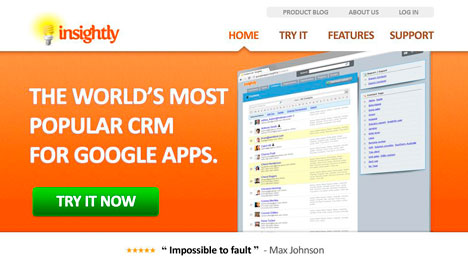 In their own words: "Insightly is the most popular Google Apps CRM and Project Management package. Track leads, proposals, opportunities, projects and manage files, all through an easy to use interface."
The good: Email integration with full email conversation history, tasks, projects, file sharing.
The bad: Kind of plain looking? (I had to say something!)
Mobile app? No.
The price: Free (up to 4 users), Starter ($29/month/6 users), Plus ($49/month/15 users), Deluxe ($99/month/40 users), Max ($149/month/99 users). (see for yourself)
My conclusion: Insightly is unique in this group of apps because it is so tightly integrated with Google Apps that, in their words, it was "made for Google Apps."  There isn't a stand-alone version – to sign up for Insightly you must do it from within Google Apps. It will be interesting to see what features are added, if any, when the premium plan is fully launched. There's probably a pretty good reason (or lots of them) that Insightly is the most popular Google Apps CRM.
Nutshell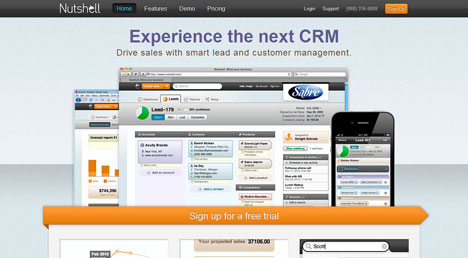 In their own words: "Nutshell takes full advantage of modern technologies to make your job incredibly efficient. Geeky words like HTML5 and AJAX mean that Nutshell provides a refined, interactive experience that we've meticulously designed around the needs of sales teams like yours. It's the future of CRM."
The good: Impressive good looks, excellent UI, native mobile app (iphone only at this time, but Android is planned), notifications, Google Calendar synchronization, competitor tracking.
The bad: No Google Apps integration (other than Calendar), contact list is buried somewhere, can't import contacts. Edit: I had a phone call from a Nutshell sales rep today and she said that (for now) they could manually import contacts for their customers.
Mobile app? iPhone.
The price: $25 per active user per month. (see for yourself)
My conclusion: Nutshell is so new they're not showing up in the search results yet, though I'm pretty confident that's going to change. (I noticed them in a Google Adwords ad.)  They wanted to build a good looking, modern app, and I for one think they pulled it off. Not only does it look good, it's loaded with features, though there are still some rough edges that probably won't last too long once people really start using this one.
One small gripe is that Nutshell seems to be targeting businesses that are more product-oriented rather than service-oriented, which seems to limit its potential for me anyway.
Solve360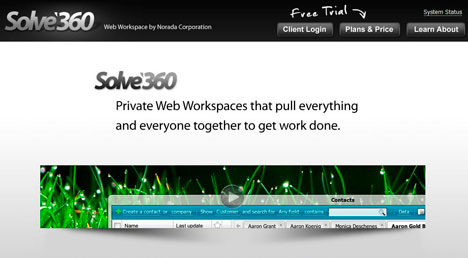 In their own words: "Solve360 is a modern CRM that integrates features to manage client projects. It's ideal for small teams in service based companies that need a flexible solution."
The good: Two-way sync with Google Apps contacts, integrated email, project blogs.
The bad: Two-way sync (for me), the price (perhaps not prohibitive, but a little more than I was looking to spend).
Mobile app? No – though they do have a mobile specific web interface.
The price: Basic ($39/month/3 users), Plus ($69/month/6 users), Pro ($149/month/18 users). (see for yourself)
My conclusion: Solve360 is pretty impressive, but a little too invasive (?) of Google Apps for my taste. Some people value and want the level of synchronization you can get with this app, but personally I prefer a little more compartmentalization. You can manage your email from within the app, which helps to link emails with contacts. However, doing so makes your Gmail act like Outlook, and I really don't want to go back to Outlook. I made the switch to Gmail several years ago, and I'm very happy with it.
Solve360 has a good thing going here and they do it well, but in the end I was looking for something a little different.
Zoho CRM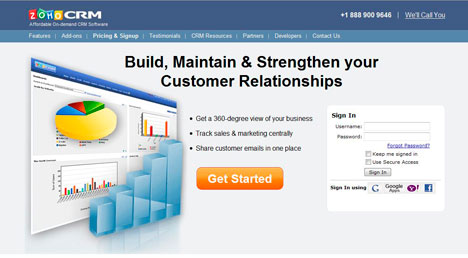 In their own words: "Zoho CRM offers businesses a complete customer relationship life-cycle management solution for managing organization-wide Sales, Marketing, Customer Support & Service and Inventory Management."
The good: Free(!), capable of doing a lot, remote meetings and desktop support, lots of Zoho and other add-ons and plug-ins.
The bad: Might be more than a small shop needs, admin options can be overwhelming, data backup (export) costs $10 each time.
Mobile app? No.
The price: Free for 3 users, Professional ($12/user/month), Enterprise ($25/user/month). Extras and add-ons for all three editions. (see for yourself)
My conclusion: Zoho CRM is impressive, it has a lot going for it, and the free account is very attractive to a start-up or very small business,  but at the end of the day, it just didn't feel like what I was looking for. I know that's really subjective, but that's where I'm at.
Final thoughts
A review like this one could conceivably go on for a long time, so I had to draw the line somewhere, write the blog post, and get on with my work. All the apps in this test are worth looking at,  they all have significant feature sets, and depending on your needs you should be able to find at least one that will do the job – some more completely than others, of course. Some are more "mature" (age-wise) than others, and the regular release of new and creative features for the "younger" apps is exciting to watch.
So where did I land?  Believe me, it was a tough decision. For my Black Hills Web Works CRM I'm leaning towards Highrise. What can I say?  It just felt right, had most of the features I was looking for, and I'll quietly hold my breath for Google Apps integration. I also run a small construction company, and for that I haven't decided which one to go with yet. My wife is a modern-day abolitionist who has a website and blog that she writes on regularly, and if she's up for it I'm going to set her up with one of these CRMs and get her impression as well.
Granted, this review could have been more in-depth, and if time permits I may write more extensive reviews of several of these CRMs in the future.
How about you?  Have you found a CRM that works well for you and your business or organization?
(To my knowledge, the information in this article was accurate at the time this was written. Some of these apps are changing on a regular basis, so new features may have been added since this was written.)
Updates
This is a list of additional CRMs that have been mentioned in the comments below. I have not reviewed them – I'm simply listing them here as a courtesy to the commenters who asked to be added to the post. 🙂
Water for CapsuleCRM –  iOS mobile app for CapsuleCRM
OnePage CRM
WORKetc – a CRM, and much more than a CRM
BlueCamroo
KPI.com – formerly WorkForceTrack
Catalyst
Timetonote
KarmaCRM
SohoOS
dashboard
icomplete
iFreeTools CRM
HeapCRM
Apptivo
Yoxel Portal – Highrise – Google Apps – MS Exchange integration
Base CRM – looks impressive, and their free plan allows for up to 150 deals (wow!)
1CRM
Skyward CRM