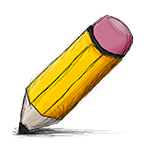 A way for me to remember some of the better things I found this week on the web. Feel free to follow along.
Inspiration
I work alone, in my home office, and other than the normal sounds of my wife and kids doing their thing around the house, it can get pretty quiet around here. Music can help, but much of what I do requires full-on concentration, and at times music can be too distracting. Enter the ambient noise collection of websites:
Coffitivity – I first heard about Coffitivity not long after they got started, and I use it from time to time when I'm not listening to music. They now have three different recordings to choose from, along with a collection of apps to take Coffitivity with you.
Noisli – Lots of variety here: rain, thunder, wind, forest, leaves falling, a water stream, ocean waves, water, bonfire, summer night, coffee shop, white noise, pink noise, and blue noise. Play one, some, or all at the same time. And if that collection of sounds wasn't enough, the background color of this site is constantly changing, creating an interesting chromotherapy effect.
Rainy Cafe – Two options with Rainy Cafe, a cafe and rain (a thunderstorm, actually). You can play one or both and mix the volume levels of each. Really like the thunderstorm on this site.
Plugins
Video User Manuals – I mentioned this plugin last week, but they're currently running a big Christmas sale that ends 15 hours from now – $97 per year instead of the usual $240. I've just started using it and am now setting it up in my client sites. The videos aren't perfect, but nobody's video tutorials are. A nice feature is being able to set a master profile that you can then use every time you install it, saving you the time to set it up and choose which videos to display.