Two related events inspired me to take another look at my online backup strategy this week – building a new desktop computer to replace my aging Dell 690, and moving from XP Professional to Windows 7 Ultimate. The move to Windows 7 had a few small "bumps" along the way, mainly with some software and hardware that weren't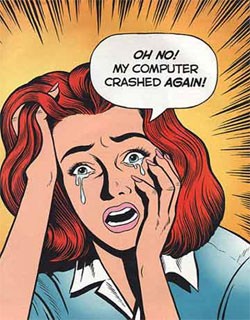 compatible with the new OS, but overall it has been a very good move. However, this post is not about Windows 7, it's about comparing two online backup services, so here we go.
As an afterthought, I should add that if you're not backing up your data, why aren't you?  Speaking from experience, hard drives fail, computers stop working, and disasters happen. Online backup services are easier to use, more accessible, and cost less than ever before, so why wouldn't you want to use one to protect your stuff (data)?
Two years with MozyPro

I first signed up with MozyPro a little over two years ago, and I really didn't have any complaints about it. It was there, it was always on, and it kept a copy of my important data safely somewhere else. I don't remember having to ever restore any files, but I did go look every now and then, and download a few files just to know that I could when the time came. One bonus to Mozy's approach is that your off-site files are (or can be) visible as another hard drive on your computer, making them readily accessible.
One thing I wasn't so happy with was the price – with a MozyPro account they charge according to the amount of space you think you're going to need, not according to the actual space you use. That's not necessarily a deal breaker, but knowing that there are other services that offer "unlimited" space, it is a factor to consider. Also, their website interface is a little clunky and not-so-intuitive, and the data upload speed leaves something to be desired, as in more speed!  I suppose I could accept the speed limitation if the bottleneck was caused on my end by our internet connection, but we have a pretty fast internet connection, so I like to take advantage of that speed if possible.
As a final caveat, we still use Mozy Home to back up my wife's data on her computer, and I include this bit of information to demonstrate that I'm not being anti-Mozy with this blog post.
Taking a look at Backblaze

Searching for a few minutes with Google brought three backup services to the top of the pile – Mozy, Carbonite, and Backblaze. I was already familiar with Mozy, feedback in the forums made Carbonite sound like it might have some issues (though I didn't actually try them out), and Backblaze was getting some good press and feedback.
At first glance, the price was attractive – $5 per month or $50 per year for unlimited space. Compared to Mozy I didn't have to sit down and figure out how much space I needed to buy, which is becoming more of a factor as I accumulate more digital photos, website backups, and the stuff of computerized life. I currently have 25 GB backed up with Backblaze, which would have cost three times as much if I had that much backed up with Mozy.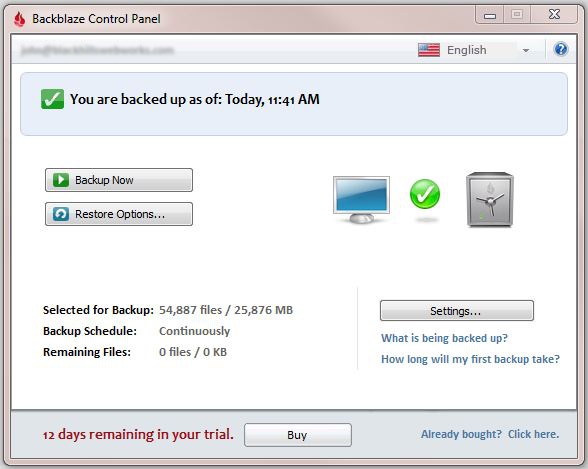 The Backblaze client-side application is also friendlier and easier to use than Mozy's, at least in my opinion. One difference in their approaches is how data is selected for backing up. With Mozy you need to decide what you want backed up; with Backblaze, it automatically selects ALL your data on ALL your hard drives, except for your operating system, applications, and temporary files, so you need to select what you DON'T want backed up. You can do this by selecting an entire hard drive, or by narrowing it down by individual folders.
The transfer speed with Backblaze was noticeably faster compared to Mozy. The initial backup with Backblaze took about two days to upload just over 25 GB of data. I don't know about you, but that seems pretty fast to me.
What about restoring?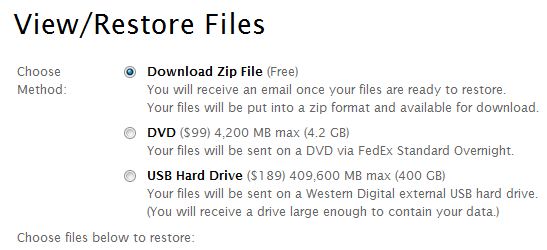 The fundamental reason for backing up your data is being able to restore it if necessary, so how does Backblaze handle this?  Not surprisingly, they take a different approach than Mozy does, and they give you three options to do it. All three options begin with signing in to your account on their website. From there, you click on the "Restore File" link, and at the next screen you make your choice of delivery:
receive an email with a zip file of your selected files (no cost)
order a DVD burned with your files and shipped Overnight FedEx ($99 for 4.2 GB)
order an external Western Digital USB hard drive loaded with your files ($189 for 400 GB)
For the sake of trying it I opted for the zip file email option, and for one file it was fast. In less than a minute I had received an email with the zip file, which I then extracted and there was my file, ready to be restored.