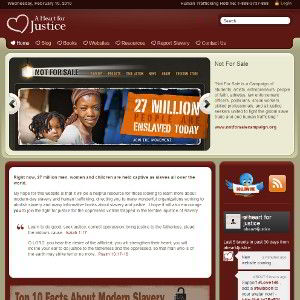 Our latest website/blog project is 'A Heart for Justice.'   This website was built for an individual who is planning to use the site and the blog to spread awareness about modern-day slavery and human trafficking, and provide links to resources to help people and churches become better informed about and more involved in this great cause. Perhaps I should have said "individuals" — my wife is the blogger and I'll be handling the website updates.
A little history
My wife started blogging on this topic in November of 2009, using a free blog hosted at WordPress.com. I had suggested building a website to go along with the blog, and she finally agreed to that last month, though it wasn't until two weeks ago that she picked out a Joomla template and a WordPress theme to go along with it. As it turns out, her choice was the Affinity Joomla template and matching WordPress theme from RocketTheme, one of my personal favorites.
Joomla and WordPress combined
We originally planned on building both the website and blog from the same WordPress theme, but we finally concluded that WordPress was going to be too limiting for some of the features and layout options we wanted to have in the website, so we then brought Joomla into the project. Still, WordPress can't be beat for blogging, and RocketTheme helped us out by having both the template and theme available. Combining the two platforms can get a little confusing sometimes when you're customizing the design, but it's certainly doable.
Note: aheartforjustice.com has been rebuilt several times, and is now a WordPress website and blog – no Joomla. 🙂