Back in December Brian Teeman wrote a blog post called Joomla Manual for Users, and in that post he highlighted a new service called Joomanuals. The idea behind Joomanuals is to provide end-user manuals that a website builder could give to the owner(s) of a new Joomla website so that they would know how to use their new website and manage its content.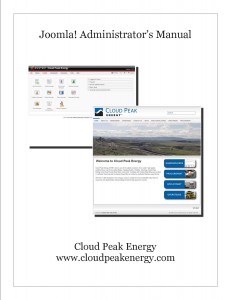 It seemed to me like a good idea so I bought a subscription to the service, followed the directions, and downloaded a sample manual for a website I had recently completed. Considering that the service is fully automated (as far as I can tell) the manual that it produces isn't too bad. I guess I was looking for a little more attention to detail and customization for my own clients though, so I spent a few days last week producing an administrator's manual complete with relevant screenshots and then published it in a PDF format.
Clicking on the image to the right will open a PDF excerpt from that manual. There is admittedly some more refining to be done, but this is where it's at for now.
For starters, our plan for these manuals is to include one with each website that leaves our "workshop," customized as necessary for that website, to enable our clients who are so inclined to effectively use and manage the content in their new Content Management System website.